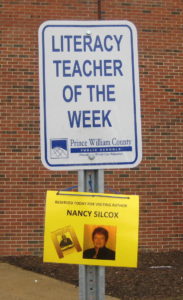 I love to visit schools and libraries to share what I've learned about historical events, the people involved and my research and writing process. Researching and writing is a little like going on a treasure hunt and then putting the pieces of the puzzle together.  You try out different facts until you find what you can verify fits together. Sometimes facts lead to down paths that are unforeseen to conclusions you never expected. I like the research part of the process so much that sometimes I have to decide, "Enough is enough! I must start writing."  For me, the writing is not easy, but the process of creating is very satisfying.  I go through many writes, re-writes and edits before I'm satisfied with my work.
In my presentations I use photographs to help tell the stories, strategies to focus learning by asking good questions and "hands-on activities" for active learning to arrive at a deeper understanding of American history.
Presentations can be tailored to large or small groups to meet your needs. Topics include:
First Civil Rights Sit-in: Alexandria (VA) Public Library 1939
The Samuel Wilbert Tucker Story
Writer to Writer: Sharing the Writing Process 
Collaborate for Powerful Teaching and Learning in L.A and History (teachers & librarians)
Through Lenses of Primary Sources (teachers & librarians)
---
Pricing depends on  the number of sessions in one location and how far I need to travel.                    Email me at [email protected] for details.